Welcome to the Jade/Jaevon LJ community
Feel free to join us here especially if you're a Jaevon shipper/fan.

Before anything else, please read the community rules
James Reid, Teen Big Winner: Stepping outside the box
While most teenagers stand out from the crowd by being loud, or worse, obnoxious, 17-year old James Reid chooses to keep it real.
Though raised in a different culture, James was able to capture the hearts of audiences with his charm. Overwhelmed by the number of supporters, James can't even pinpoint the exact reason for the admiration except that he has no pretention. "I'm really down to earth. My dad told me when I got home that I was pretty natural. I was just being myself. I don't know, maybe they like my accent?" James smiles.
House to house
Despite growing up without his Filipina mother, James still kept in touch with his Asian roots by visiting the country almost every year. It was in 2009 when the Aussie-Pinoy finally settled in the Philippines with his dad. After struggling with money problems back in Sydney, the father and son decided to move to the country and start anew.
"In Australia, we had a court case and we lost our house. We are living off government allowance because we didn't have any money. My oldest brother helped us move here," relates James, who admits he was overindulged as a kid. But when his family faced legal troubles, he began to feel the major changes in their lifestyle.
James enrolled at the Makati Science High School but transferred to a distance-education school a month later in order to avail of the Australian government allowance. But the restrictions of home-schooling bored him. Being confined inside the house impeded his interactions with other adolescents his age. And James found a chance to meet new friends inside the PBB house.
"I joined PBB because I wanted to meet people. Since I'm doing home-school, I don't get the chance to meet people. It was a perfect opportunity for me to make some friends. That's what I was looking forward to the most," he shares.
Inside the PBB house, James had no difficulty forging friendships with his fellow teen housemates. Being naturally shy, James learned to express himself more through his actions rather than his words. "I'm normally quiet. I guess I seem more like that because the other housemates are all so crazy. But I got along with them very well," he quips.
A shot at stardom
Seeming timid and sickly, James is actually a sports enthusiast who is skilled in gymnastics, swimming, diving, golf, and football. He is also musically inclined, dabbling with his guitar and pulling off a few notes. Unknown to many, he is very interested in cooking and is considering a hospitality course in college.
"I cook pasta and roast. I can't cook Filipino food but I eat a lot of Filipino food, especially sinigang," he reveals.
With cameras capturing his every move, James learned to overcome his self-consciousness. "Normally I hate it when there are a lot of people staring at me. But on the Big Night, I was so shocked. It was my first time experiencing anything like it. The experience inside the PBB house is incredible. It's fun and crazy. It's a once in a lifetime opportunity. You will never get to experience something like this ever in your life. It opens a lot of doors and opportunities for other things," he says.
Though he may have to juggle his education with showbiz, the incoming high school senior says that he is ready. "I'm really jumping into it. I'm just cruising along. I'm lucky and I'm grateful for everything I got. It wasn't easy getting it but all the trouble was definitely worth it," he says.
More than the prizes, James has all the life lessons to take home with him. (Alona Mandigma)
Ryan Bang: He bangs!
Bagging PBB's 2nd prize, Ryan Bang says he will most likely spend his cash prize pigging out at McDonald's, and helping out his dad.
Still uncomfortable with both Filipino and English, Korean national Ryan did not realize that he was auditioning for PBB until he got to the audition venue. His friend asked him if he wanted to try it out for PBB, and without any hesitation Ryan said yes, thinking he was going to be introduced to the band who sang the show's theme song.
"Akala ko ipapakilala sa akin 'yung kumanta ng 'Pinoy Ako'," he laughs.
Famed and loved for his 'chuvachuchu dance,' Ryan loves to make people happy. He is unsure if he had been a role model to Filipino youth but he says he is certain he made them happy. Likewise, his PBB experience taught him how to be serious when needed.
"Before I entered PBB I was never serious, even in school. I just laugh and talk and talk,'' he says.
However, Ryan has an appreciation for the value of education through his mother's constant reminder. "If I don't go to school my mom will hit me," he jokingly says.
In high school, Ryan was a captain of his school's soccer team. He also became student council president. "I was elected because I promised the student body that I will always make them happy!"
Ryan considers his PBB experience as the best thing that happened in his life so far. It was also a very good learning experience. He shares that Kuya taught him that a little seriousness won't hurt. He also learned how to follow instructions, do house chores, and get up when told to do so.
Since moving to the Philippines five years ago to study, Ryan has become a Filipino in every way. He reveals the three things that he loves the most: Manny Pacquiao, Enchong Dee and pancit canton. "I love pancit canton! If I meet the owner of pancit canton, I want to kiss him!"
There may be times that he feels homesick, but Ryan confesses that he would like to stay in the Philippines for good. "Filipinos are friendly. They always have a smile on their faces. I think I will stay here until I die," he ends. (Maria Laura V. Angeles)
Fretzie Bercede: Sweet Cebuana
There's a lot more to Fretzie Bercede than her sweet looks and undeniable charm.
For one, the 16-year old Cebuana Fretzie is a friend to all and never subjected herself to any fights. This is probably the reason why she was never nominated for eviction.
Fretzie won the hearts of most of her housemates and developed deep friendships among them especially with Patrick, Ivan and Bret. It drew supporters around the country, resulting to love teams such as PatZie, VanZie and BretZie.
Inside the house, Fretzie remained very close to Bret. She even stood by her decision not to evict Bret. "He deserved to stay, too. He has a good leadership and shared a great deal of talents," defends the 4th year high school student. "But friends lang talaga kami. My parents always remind me, friends muna and studies first."
But Fretzie is also open to showbiz opportunities and would try her best to balance her time between studies and showbiz. Fretzie only wanted her parents and siblings to be proud of her. "I'll make sure I'll be the same Fretzie that they know, that sweet and loving girl." (Katreena B. Cosme)
Devon Seron: On her own
As the breadwinner in the family, Devon Seron proves that growing up with certain obligations in life is not an excuse for her to stop school.
Although Devon has been prioritizing her family's needs more than her own, finishing school remains on top of her priorities.
"Gusto ko talaga ipagpatuloy 'yung pag-aaral ko, kasi importante talaga ang pag-aaral kaya nagpapasalamat din ako sa PBB kasi tinulungan din nila ako. Binayaran nila 'yung tuition ko para maka-graduate sa high school," relates the aspiring fashion designer.
Devon learned to be independent at a very young age. "Pinapasok lang ako ng pinsan ko sa banda kaya nakaka-contribute ako kahit sa maliit na bagay, sa food or kung ano ang kailangan ng pamilya," she shares.
She says she appreciates all the experiences and lessons she got from the PBB house. "Parang pareho lang kasi 'yung mga challenges sa bahay at sa totoong buhay sa real world. Mahirap pero nalampasan din naman," she says.
Indeed, PBB is a life-changing experience. "Makakatulong na 'yung napanalunan ko sa family, makakapag-open po ako ng business for my mom like siguro sari-sari store. Makakapag-college na rin ako dahil sa scholarship sa STI. Basta malaking bagay na 'yung nakuha ko para makatulong."
And the most important lesson she learned from Kuya? "'Yung sinabi niya na lahat kami Big Winner. Dapat I should believe in myself, follow my dreams, and dream big," she ends. (Mae Winky Veluz)
Bret Jackson: Music man
Music is life. And for Bret Jackson, this will always be true.
It wasn't only because of Bret's evident inclination and passion for music, but it seems that his whole life is a staff marred by various musical notes. Every pitch is different and every tone accentuates a side of him that people have yet to listen to.
Bret relates that his life is as plain as one can be, so he was surprised by all the fans cheering his name.
"I see on Facebook all these crazy fans and I'm like… what? I guess they just saw something in me. I was just being true to myself. I suppose they just like me for being me. That's all you can really do," he continues in jest.
The side of him which is passionate with music certainly didn't disappoint. "Any old school music, acoustic, I just love it. 'Sky Eats Airplanes,' 'Vampire Weekend,' stuff like that. Anything indie, something that people don't know, anything that makes music grow," he enthuses.
It isn't much of a surprise, then, that Bret can play great music. He prides in being able to both write and sing his own works.
"If you want to write a good song, this is how you do it: go to sleep for like 15 to 30 minutes and then you wake up and look at the person that you like or inspired by. Then sit down and write everything that comes out of your mind before adding some chords to it. That's what music is all about. It came from your soul. There's no technicality. That's the best part."
Everyone who stayed tune to everything that happened inside the house would know how Bret confessed one of his well-kept secrets.
"Before, I never told anyone that. Because everyone thought Michelle's my real Mom because she is, for me. But when I told them that, it felt like releasing something that's really deep inside you that I never told anyone. So it feels good. I thought it's just the right time that everyone know. I mean just be true to yourself and be truthful to everyone," he admits.
Entering the Big Brother house opened a lot of doors for Bret. But if there's one thing clear to him now, it is his plans for an album with Big Winner James (Reid).
"The Philippines just doesn't have much indie music right now. I'm looking forward to a power pop album, or acoustic indie, anything like that. We're going to give them a little bit of everything. I think it's just time for a change in music." (E.J. Tuazon)
Ivan Dorschner: In the real world
Now that he is out of the PBB house, Ivan Dorschner will face not the daily challenges of Big Brother, but the actual tests of life.
Ivan says that he will use all the things that he learned inside as he faces the realities of the outside world.
"I would be forever thankful to Big Brother for his house became my 'home' here in the Philippines," he says.
Ivan has no bitterness placing fifth, he says. In fact, when he saw James days after the Big Night, the two happily shared stories about their first few days outside the house. "When I woke up that first morning outside the PBB house, I first looked for my lapel mic," Ivan says with a laugh.
Before PBB, Ivan was a Biological Science student in the US. "I have always been interested at how the body works. If something goes wrong with the body, we need to know how it works so we'll know how to fix it," he adds.
However, Ivan is now considering shifting to another course. "I'm planning to take something in the line of politics, something that would help me pass a law to protect the environment. I guess I just want to encourage people to do what they can because after all, it is our world that we would be saving," he explains.
While inside the house, he proved to everyone that he's not all good looks, he also has the talent and the leadership ability. He was one of the few outspoken housemates, and his frankness was even misunderstood by the Teen-ternationals.
"But it's really nice to have people support me and believe in me, but what's more important is that I believe in myself, in who I am and in what I can do."
Source:
Manila Bulletin
Current Music:

XLR8 - You're So Hot
www.youtube.com/watch
part 1
www.youtube.com/watch
part 2
www.youtube.com/watch
part 3
www.youtube.com/watch
part 4
www.youtube.com/watch
part 5
www.youtube.com/watch
part 6
James touches MM comfortably...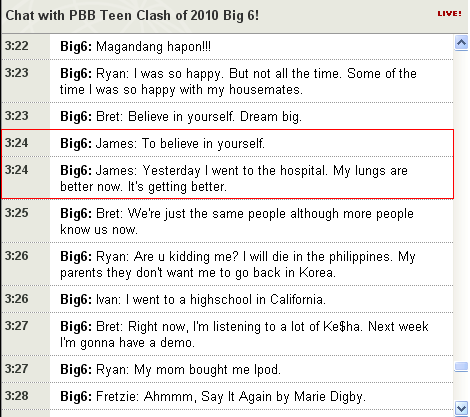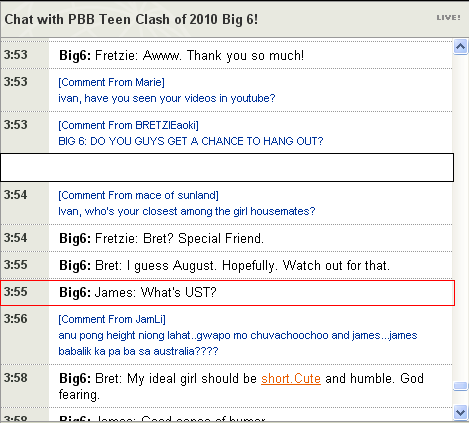 VIDEOS c/o sweetmoonriver




BIG6 SHOWTIME FANCAM
www.youtube.com/watch
or
www.youtube.com/watch


How to join:
If you don't have a livejournal account, create one. Be sure to verify your registration on the email you provided while signing up.


Go to the profile page and click join.


Await membership approval.


If you don't know how to go around Livejournal, read the FAQ page.
General Rules:
Comment here once you join. Membership is moderated to avoid lurking haters. And provide your PEX username for confirmation. For security reasons, please have your name on the fanlist in PEX. I will only approve confirmed memberships.



No hate allowed. No hating on Jade/Jaevon and other love teams.



As much as possible, posts should be related to James Ried and/or Devon Seron.



Respect other members' opinion. You may state your own but no flaming. Keep civil.


Enjoy!
Posting Rules:
For fanfics, news that aren't press released(aka Jade/Jaevon SOCO), 'private affairs', and photos concerning the two announcements, post it as FRIENDS ONLY/MEMBERS. DO NOT MAKE IT PUBLIC. News from entertainment sites(ABS-CBN, PEP, GMA, etc) can be posted as public. Cite your source and credit owner when posting and provide a link.


Before posting, proof read. Please check your grammar and spelling.

Absolutely no jejemon

. As much as possible, please use proper capitalization and no fancy fonts. Also, place appropriate tags as much as possible and keep posts organized and easier to find.


No sexually explicit, defamatory and offending posts.


Label your posts. [NEWS] your title for news articles, [ANNOUNCEMENT] your title for announcements, [FANFIC] your title for fanfics , [PHOTOS] your title for photos, [GRAPHICS] your title for graphics, [ICONS] your title for icons/avatars [OPINION] your title for personal thoughts about Jade/Jaevon and [VIDEOS] your title. Posts without labels shall be DELETED.


As much as possible post something only related to James Ried and/or Devon. General news about PBB Teenclash of 2010 and/or Big 6 are accepted.


Maintain 'good vibes' in both posts AND comments.
RULES SUBJECT TO CHANGE WITHOUT PRIOR NOTICE.